Recipe: Crab Curry with Eggplant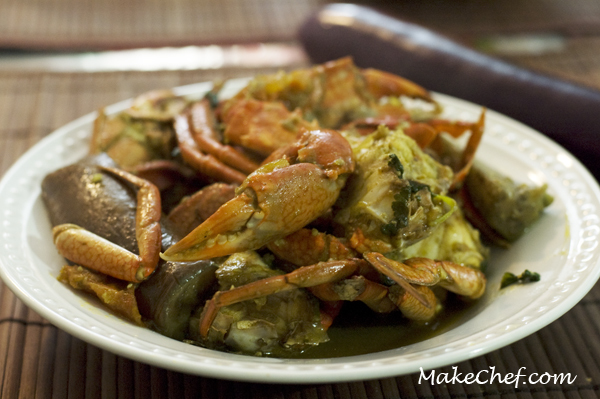 I like eggplant, especially Asian eggplant for its thin skin and delicate flavor. And whenever I make curry dishes I tend to throw in one or two eggplants. They pair very well with crab or fish.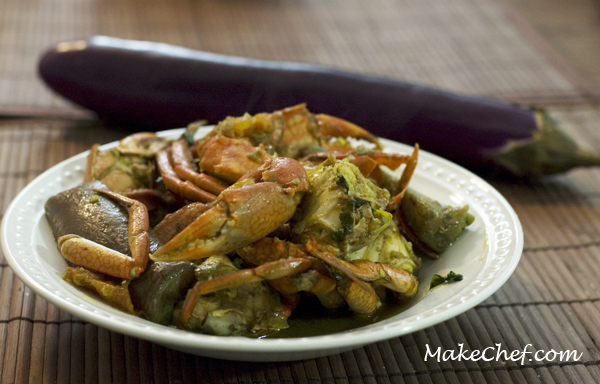 Ingredients
2 lbs crab (Frozen Madagascar Crab from the Indian Ocean was used in this recipe), cut into big parts
2 eggplants cut lengthwise into thin slices (preferably Asian eggplant)
4 fresh whole tomatoes, chopped
3 medium size onions, chopped
1 clove garlic, minced
1 tbsp curry powder (see recipe for curry powder)
Salt to taste
Instructions
In a heavy bottom pan over medium heat, fry the eggplants in some vegetable oil. Reserve.
Fry the onions in some vegetable oil.
Add the garlic, curry powder and tomatoes. Cook until a paste consistency.
Add the crab to the sauce and add 2 cups of water. Cook until the crab is done.
Add the eggplant and remove from heat.
Garnish with fresh coriander (optional)
Serve with rice.
Preparation time: 15 minute(s)
Cooking time: 20 minute(s)
Number of servings (yield): 4
Copyright © MakeChef.com.