Recipe: No added sugar multicolored muffins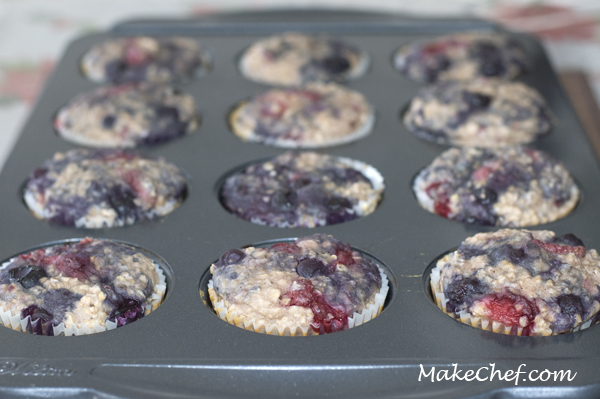 After the weird color incident with my Blueberry Muffins for Halloween, I decided to try the recipe again. This time, I was careful not to mix the blueberries into the batter. Instead, I added the blueberries on top of the batter that have been poured into the muffin cup and gently pushed the fruits into the mixture. No greenish grey color this time!
I also wanted to eliminate the added sugar from the recipe altogether. I added frozen strawberries instead and slightly changed the amount of oat to flour ratio.
And there I had my no sugar added multicolored muffin.

Ingredients
1 ½ cup oats (quick uncooked Quaker Oats)
1 cups all-purpose flour
1 cup frozen blueberries
1 cup frozen strawberries cut into small pieces
1 tbsp baking powder
1/2 cup water
1/4 cup canola oil
1 egg, lightly beaten
1 tsp vanilla
Instructions
Heat oven to 400°F, rack middle position.
Line twelve medium muffin cups with paper baking cups
In large bowl, combine flour, oats and baking powder.
In small bowl, combine milk, oil, egg and vanilla. Add to dry ingredients. Stir just until dry ingredients are moistened. Add the strawberries and combine gently.
Fill muffin cups. Add about 5-8 blueberries on the surface of each muffin cup and gently push them into the mixture.
Bake for 16-18 minutes or until golden brown.
Preparation time: 5 minute(s)
Cooking time: 18 minute(s)
Number of servings (yield): 6
Copyright © MakeChef.com.