Recipe: Steamed Pork Buns (Bao)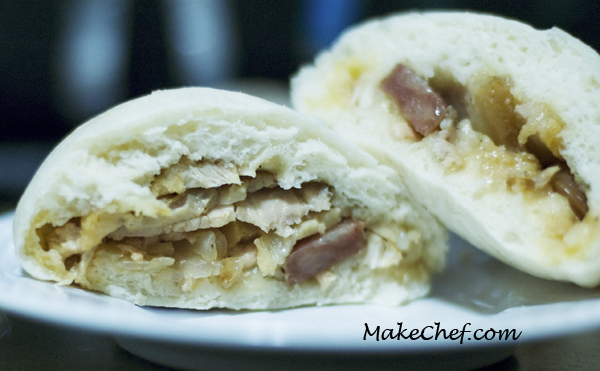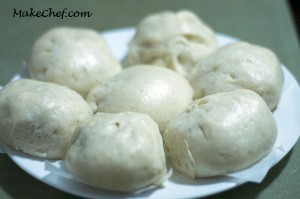 Ingredients for the dough
1 tbsp yeast
2 cups all-purpose flour
3/4 cup warm water
1/4 tsp salt
2 tbsp white granulated sugar
1 tbsp vegetable oil
1/2 tsp baking powder
Ingredients for the filling
3 Chinese sausages, boiled for 5 min and cut into small pieces
1 cup crispy roast pork or barbecue pork (which ever you prefer), cut into small pieces
1 chicken breast cut into small pieces
1 onion, chopped
2 tbsp hoisin sauce
 Instructions
To the bowl of the stand mixer, add all the ingredients for the dough.
Attach the dough hook and knead on low speed. Knead for about 10 minutes.
Remove the dough from the stand mixer and form the dough into a ball.
Spray the dough and side of the bowl with olive oil and cover tightly with a plastic wrap and place in a warm place, until the dough doubles in size, about 1 hour.
In the meantime, prepare the filling for the buns.
In a pan over medium heat, fry the onion and add the chicken.
Add 2 tbps of hoisin sauce.
Add the sausage and pork.
Let the mixture cool down and divide the filling into 8 equal parts.
Once the dough has doubled in size, punch it down and divide into 8 equal parts.
With a rolling pin, flatten the dough to form a circle and add 1 tbsp of the filling in the centre.
Pinch the opening to seal and place each bun on 2" square parchment paper, seal side up.
Steam the bun on high heat for 12 minutes. Do not open the lid of the steamer during steaming!
Number of servings (yield): 4
Culinary tradition: Chinese
Copyright © MakeChef.com.