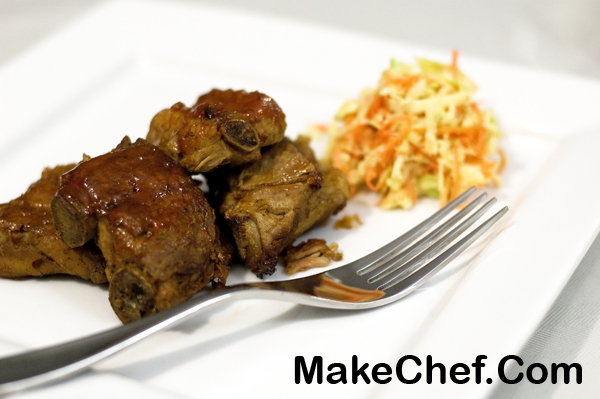 Summary: This is an adapted version of the boil and bake ribs recipe from Chef John of Food Wishes. Chef John's videos are great.
Ingredients
4 lbs(about 1.8Kg) of pork ribs, cut into pieces
For the Broth:
100 oz. (3L) of cold water
1 garlic head, minced
2 onions, coarsely chopped
2 tablespoon kosher salt
1 tablespoon chinese 5-spice
2 bay leaves
For the Glaze:
4 tablespoon soy sauce
4 tablespoon rice vinegar
4 tablespoon ketchup
4 tablespoon dijon mustard
4 tablespoon honey
4 tablespoon brown sugar
4 teaspoon sambal chilli paste or sriracha
1 teaspoon chinese 5-spice
Instructions
In a large pot, add the garlic, onion, salt, 5-spice and bay leaves to the water. Bring to a boil.Add the pork ribs to the broth. Bring to a boil. Turn down heat to low and simmer for about 1 1/2 hours (the meat should be nearly falling off the bones).
Prepare the glaze by mixing the soy sauce, rice vinegar, ketchup, dijon mustard, honey, brown sugar chili paste and 5-spice in a bowl. Reserve about 1/4 cup of the glaze.
Remove the ribs, once done, from the broth and coat them with the glaze.
Place the ribs on a baking sheet lined with parchment paper or aluminium foil. Do not overlap the ribs pieces.
Preheat oven to 400ºF, rack placed in middle position.
Place the ribs in the oven and lower the temperature to 375ºF. Cook the ribs for 20 minutes.
Flip the ribs and brush them with the reserved glaze. Cook for 20 minutes. Serve with coleslaw and white jasmine rice.
Preparation time: 30 minute(s)
Cooking time: 2 hour(s) 10 minute(s)
Number of servings (yield): 4
Culinary tradition: Chinese
Copyright © MakeChef.com.