Recipe: Gougère (Choux Pastry) Stuffed with Beef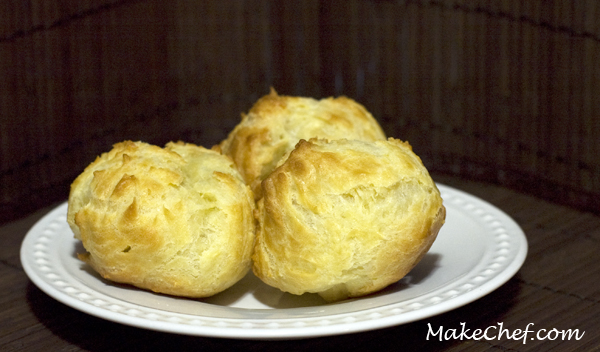 Gougère is a baked choux pastry. The dough is usually mixed with cheese. This recipe contains no cheese. For this recipe, I filled the pastry with beef. You can make the fillings with smoked salmon and cream cheese or canned tuna. Feel free to adapt to your taste.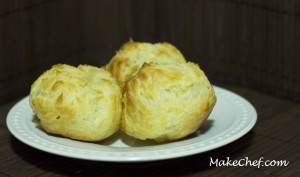 Ingredients for the choux pastry
1 cup water
¼ cup butter
Salt and pepper to taste
Ingredients for the filling
½ lb ground beef
1 tomato, chopped
Thyme, salt and pepper to taste
Instructions
Preheat the oven to 420°F, rack in middle position.
In a saucepan, combine the water, butter, salt and pepper and bring to a boil. Add the flour and stir it in with a wooden spoon until a smooth dough forms. Remove from heat.
Beat the eggs into the dough, one at a time until fully incorporated into the batter.
Place about one tablespoon-size batter formed into balls on a baking sheet lined with parchment paper. Makes about 20-25 balls.
Bake for about 20 minutes, until golden brown.
In the meantime, prepare the filling by cooking the beef in a pan over medium heat.
Add the tomato, thyme, salt and pepper.
The filling should be quite dry or else the choux pastry will be soggy.
Once the choux pastry is cooled, add about 1 teaspoon of filling inside (the inside of the choux pastry should be hollow).
Preparation time: 20 minute(s)
Cooking time: 30 minute(s)
Number of servings (yield): 6
Culinary tradition: French
Copyright © MakeChef.com.