Recipe: Homemade Pizza
Ingredients
2 or 3 tbsp tomato sauce (or more if you like your pizza with more sauce)
½ cup white mushroom, thin slices
¼ cup pineapple, cut into small pieces
¼ cup black olive, cut into small pieces
¼ cup red pepper, cut into small pieces
¼ cup Feta cheese
½ cup Cheddar cheese
Prosciutto, cut into small slices
Basil leaves
Instructions
Preheat oven to 475⁰F, rack in lowest position.
Roll the pizza dough into a 14″ diameter circle.
Spread about 2 or 3 tbsp of tomato sauce on the dough.
Sprinkle with mushroom, pineapple, black olive, red pepper, Prosciutto, Feta cheese and cheddar cheese. Top with some basil leaves.
Cook for about 12 minutes at 475⁰F.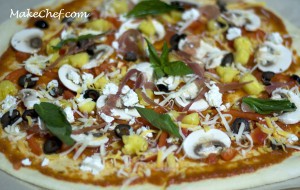 Number of servings (yield): 8
Culinary tradition: Italian
Copyright © MakeChef.com.