Recipe: Pandan Chiffon Cake (Sponge Cake)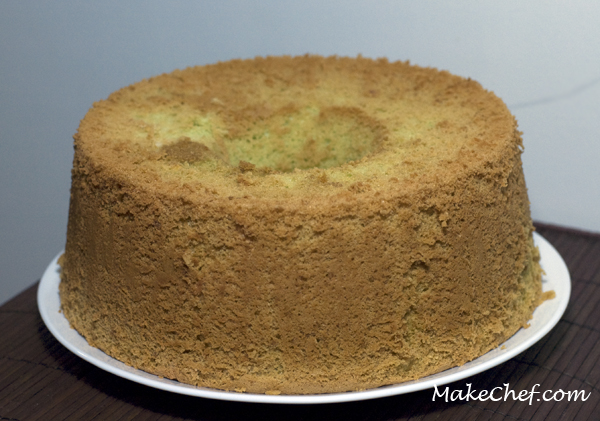 Pandan chiffon cake is a light and fluffy cake. It is very popular in Indonesia and Malaysia.

Ingredients for egg yolk mixture
8 egg yolks
¾ cup sugar
2 cups flour, sifted
1 tbsp baking powder
¾ cup vegetable oil
1 cup coconut milk
1 tsp Pandan Flavour Enhancer
Ingredients for egg white mixture
8 egg whites
¼ cup sugar
¼ tsp cream of tartar
1 pinch salt
Instructions
Preheat oven to 350⁰F, rack in middle position.
To prepare the egg yolk mixture, beat egg yolks with sugar in a bowl until mixture is pale yellow and fluffy.
Add flour, baking powder and coconut milk. Beat until combined.
Add vegetable oil and Pandan extract and beat until combined.
To prepare, the egg white mixture, beat egg white with sugar, cream of tartar and salt in the bowl of the stand mixer until firm peak is obtained.
Gently, fold in half the egg white mixture into the egg yolk mixture. Add the remaining egg white until combined.
Cook at 350⁰F for 1h10 minutes
Once the cake is cooked, invert the pan and let the cake cool down for at least 3 hours before unmoulding.
Preparation time: 15 minute(s)
Cooking time: 1h10
Number of servings (yield): 8
Copyright © MakeChef.com.