This recipe gives two 14 inches pizzas. I usually make this dough during the weekend and keep one of the doughs in the refrigerator for Pizza Tuesdays and freeze the other one for later.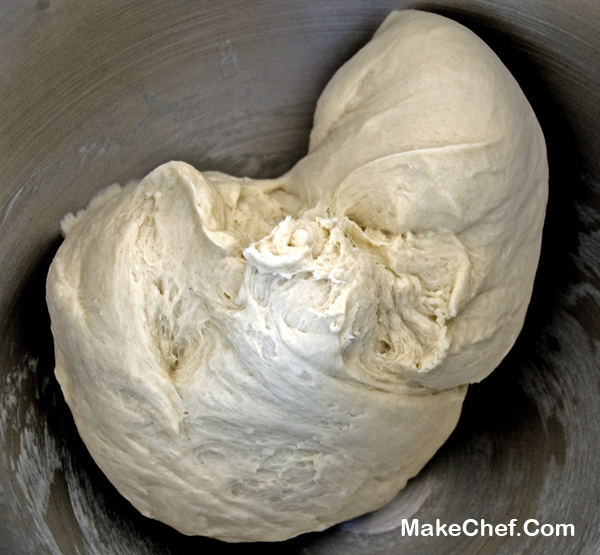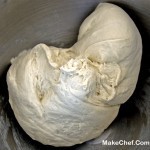 Ingredients for sponge
2 and a half teaspoons dry yeast
3/4 cup lukewarm water
2/3 cup all purpose flour
Rest of Ingredients
4 cups white flour
1 teaspoon salt
1/3 cup olive oil
1 cup of cold water
Instructions
Mix the ingredients for the sponge in the bowl of a stand mixer. Let the mixture rest for 30 minutes in a warm place.
Add the rest of the ingredients: flour, salt, olive oil and cold water, to the sponge. Attach the dough hook to the stand mixer and mix on low speed for about 10 minutes, until the dough is smooth and elastic and does not stick to the bottom of the bowl.
Remove the hook and bowl from the stand mixer.
Lightly spray some olive oil on the side of the bowl and coat the dough with the olive oil.
Cover the dough tightly with a plastic wrap and let the dough rise in warm place for one hour or until the dough have doubled in size.
Hot Tip: Place a cup of hot water and the dough in the oven or in the microwave oven (both equipments should be off).
Once the dough have risen, punch it down. Divide the dough into two balls.
Lightly spray the two balls with olive oil and place them individually in Ziploc bags for storage.
Preparation time: 30 minute(s)
Cooking time: 30 minute(s)
Number of servings (yield): 8
Copyright © MakeChef.com.