Recipe: Pork Dumplings with Udon Noodle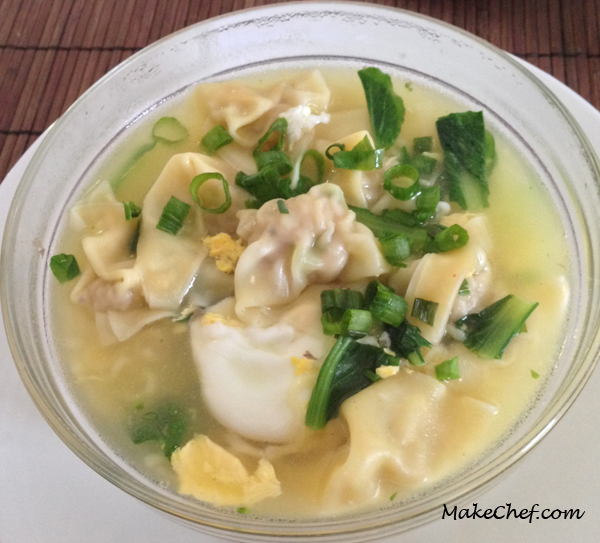 This is a very simple dish and the dumplings can be made in advance and frozen for later use.
It can also be deep fried and enjoyed as appetizers.
As always feel free to add your favorite ingredients to the noodle soup (shrimps, vegetables, chillies…).
Those dumplings can also be fried and eaten as appetizers.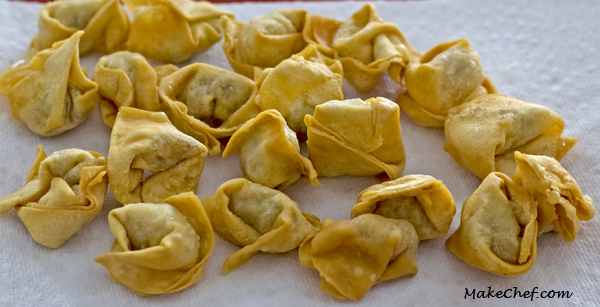 Ingredients
2 packs of wonton wraps
½ lb ground pork
3 shitake mushrooms, soaked and chopped
2 green onions, chopped
2 tbsp dry shrimps, soaked (optional)
3 pack of Udon noodle (I like the Nongshim noodle)
4 eggs
Salt and pepper to taste
Instructions
In a food processor combine the pork, mushrooms, green onions and dry shrimps. Season with salt and pepper.
Add a small amount of the filling in the middle of the wonton wrap.
Fold the dumplings as indicated in the pictures.
Cook the noodle as directed on the package. For additional flavour, use chicken stock instead of water to prepare the noodle.
Add the dumplings and eggs (do not beat the eggs) to the noodle and cook for about 3-4 minutes.
Preparation time: 30 minute(s)
Cooking time: 30 minute(s)
Number of servings (yield): 4
Culinary tradition: Chinese
Copyright © MakeChef.com.