Roast Chicken
This roast chicken makes a nice Sunday lunch or dinner. You may serve it with mash potatoes or French fries. The leftover chicken is great for sandwiches.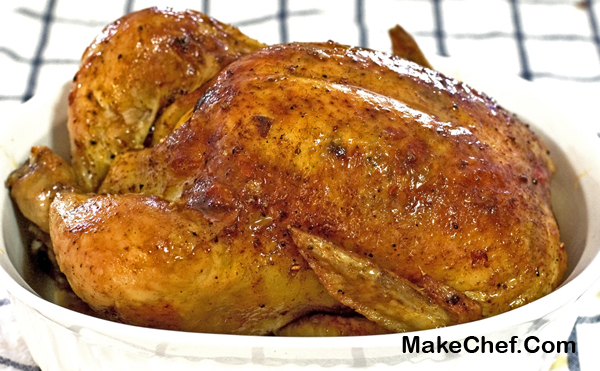 Ingredients
1 whole chicken
1 stick or 1/4 cup unsalted butter, softened
4 garlic cloves, minced
1 teaspoons paprika
1/4 teaspoon cayenne pepper
1/4 teaspoon szechuan pepper (optional)
2 teaspoons olive oil
1 lemon, zested
Salt
Pepper
Note: The garlic cloves can be substituted for dry garlic powder, 1 teaspoon.
Directions
Preheat the oven to 475º F. Place the rack in the middle position.
In a bowl, combine the butter, garlic cloves, lemon zest, salt and pepper to form a paste. I do sometimes add fresh rosemary to the paste.
Using the fingers, gently separate the skin above the breast. Push the paste under the skin. I usually find it useful to use a chopstick to do that.
Poke the lemon with the tip of a knife (about 10 times) and place the lemon inside the chicken's cavity.
Rub the olive oil on the chicken skin and sprinkle the paprika, salt, pepper, cayenne pepper and szechuan pepper (if using) on the skin.
Place the chicken on the oven rack (middle position) and immediately lower the temperature to 400ºF. Cook for 1 hour and 20 minutes. Baste after 45 minutes.
Internal temperature should show 165º F and the juice should run clear.
Let the chicken rest for about 15 minutes before carving.