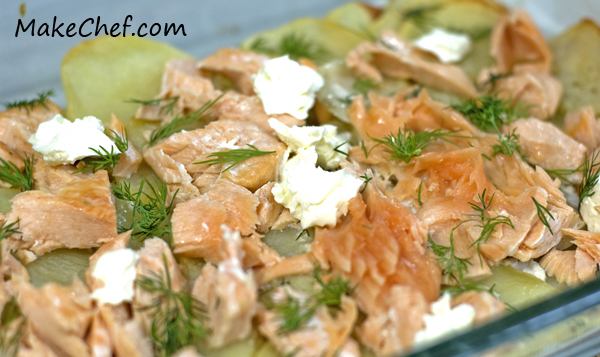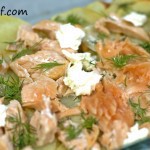 Ingredients
2 medium size Salmon filet, cut into small pieces
4-5 medium size Russet potatoes, peeled and sliced into thin slices (about 2-3 mm thick)
2 tablespoons fresh dill
3-4 tablespoons of cream cheese
2 cups shredded Italiano Kraft Cheese (Provolone, Mozzarella, Parmesan and Emmental mix)
Salt and pepper to taste
Instructions
Preheat oven to 450⁰ F. Place rack in middle position.
Place the slices of potatoes, without overlapping the slices, on a large baking sheet, lined with parchment paper (this makes cleaning easier, but it is optional). Sprinkle the potatoes with salt and pepper.
Place the potato slices in the oven and cook for about 20 minutes, until they are golden brown and slightly crispy.
Once cooked, remove the potato slices from the oven and place in the bottom of an oven safe dish.
Add the pieces of salmon, cream cheese and dill on the layer of potato slices.
Add the shredded cheese on top. Cover with aluminum foil and place in a 400⁰ F oven for about 20 minutes.
Remove the aluminum foil and cook for about 5 minutes or until the cheese has melted.
Preparation time: 40 minute(s)
Cooking time: 45 minute(s)
Copyright © MakeChef.com.