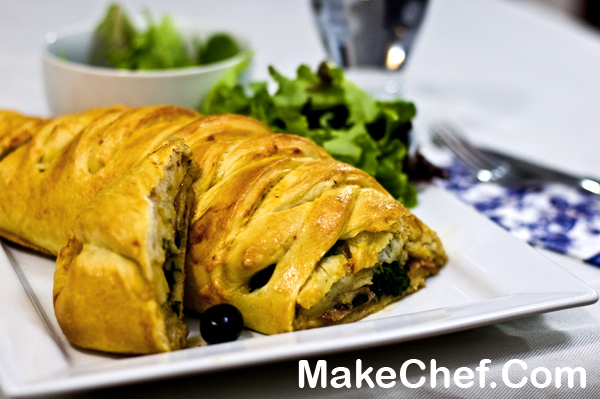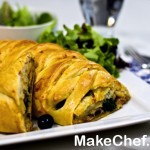 Ingredients
1 pizza dough (see pizza dough recipe)
4-5 slices of ham
1/3 cup tomato sauce (see tomato recipe)
1 cup white mushroom, sliced
1 cup spinach, cooked
1 cup cheese (I used Tex-Mex Kraft: shredded mozzarella, cheddar and monterey jack)
1 teaspoon dry oregano
1 egg, lightly beaten with 2 tablespoons water
Pepper
Instructions
Preheat oven to 400⁰ F. Place rack in the middle position.
Place about 1/2 the box of fresh spinach in a large pan over medium heat. Cook until the leaves are wilted. Set the spinach aside on a plate and lightly pat dry with a paper towel.
Roll the pizza dough to form a 12 x 13-inch rectangle.
Place the dough on a baking sheet lined with parchment paper, sprinkled with some corn flour (optional).
Spread the tomato sauce in the middle of the dough, leaving out about 4 inches around the dough.
Cover with a layer of ham, mushroom, spinach and cheese. Sprinkle the oregano on top.
Using a knife, slice the 4 inches dough that you left out, so as to form about 1 inch thick strips on both sides of the dough.
Fold the strips over the filling to form a criss-cross pattern.
Brush the egg on top of the dough.
Cook in the oven for about 30 minutes, until the crust is golden brown.
Quick notes
You may leave out the spinach if you want and use some fresh basil instead.
Feel free to substitute with any other cheeses you like, for example slices of provolone, Jarlsberg etc.
You may also add pepperoni, salami as filling.
Preparation time: 30 minutes
Cooking time: 30 minutes
Number of servings (yield): 4
Culinary tradition: Italian
Copyright © MakeChef.com.
Fillings on the pizza dough with borders striped: