Recipe: Boule Bread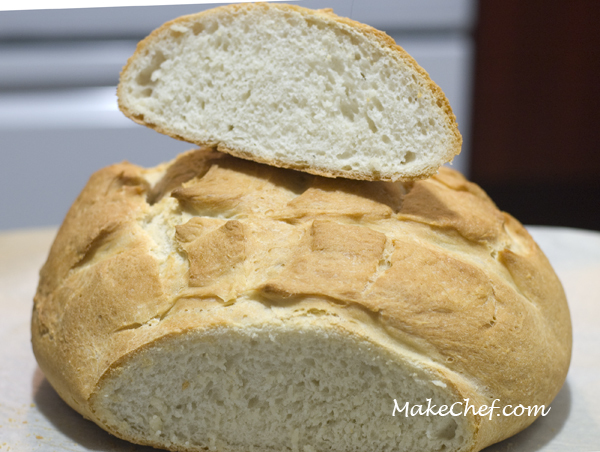 Boule Bread is a French bread that means ball. The soft, light and fluffy texture of the inside of the bread contrasts sharply with the thick crunchy crust. Simply heavenly when eaten freshly baked and slathered with butter.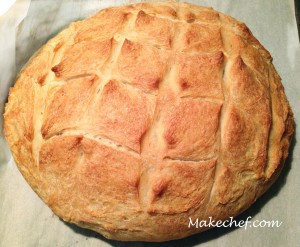 Ingredients
2 tsp yeast
2 ½ cups warm water
1 ½ tsp salt
4 ½ cups all-purpose flour
Instructions
To the bowl of the stand mixer, add 2 cups of flour, yeast, salt and water.
Attach the dough hook and knead on low speed.
Add the remaining flour slowly to the dough until the dough no longer sticks to the side and bottom of the bowl. Knead for about 10 minutes.
Remove the dough from the stand mixer and form the dough into a ball.
Spray the dough and side of the bowl with olive oil and cover tightly with a plastic wrap and place in a warm place, until the dough doubles in size, about 1 hour.
Punch down the dough and let it rise again until it doubles in size again.
Gently turn the dough, taking care not to deflate it, onto a baking tray line with parchment paper sprinkled with corn flour.
Slash the top of the bread with a sharp knife or a serrated knife.
Preheat oven at 425⁰F. Cook at 400⁰F for 50 minutes.
Let the bread cool down on a wire rack.
Copyright © MakeChef.com.